Full dispensing service
Repeat prescription service
Ostomy, catheters, dressings and trusses
Appliances, meters and nebulisers
Medicines and first aid
Cosmetics and skin care
Animal medicines
Full photographic processing service
Family toiletries and baby needs
Hair accessories and oral hygiene
Cards for all occasions
Suncare and holiday products
Fragrances and fashion accessories
Free special order service
All this and much more is available from Creswell Pharmacy
The dispensary
We dispense NHS, private and veterinary prescriptions and keep a record of what we supply. This medication record helps us to advise you of the compatibility and possible side-effects of the medicines we supply.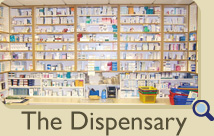 Repeat prescriptions
We can collect your regular repeat prescription from the local surgeries on your behalf so that your medicine is ready for you to pick up from us when you want it. Please ask for details or see the links page for participating surgeries.
Medicines and containers
As children are particularly vulnerable to accidental overdose we will always try to supply prescription medicines in child resistant containers, unless you ask us not to. Please note no containers are child proof. Always keep medicines out of the sight and reach of children. We can also recommend and supply special containers marked with daily or weekly doses which may help confused patients.
Confidential help and advice
We have a private area which can be used to discuss your medicines or general healthcare concerns.
Unwanted medicines
Please return any unused medicines and containers to us for safe disposal. Never put them in the bin or flush down the toilet.
Residential and nursing homes
We are happy to provide specialist services to local registered residential and nursing homes.
Other services
The services we provide are under constant review to ensure local needs are catered for. Please ask for details.